A drifting arrangement of ambient sounds and complex textures grounded by an Electro-IDM pulse. Veteran producer Mesak calls upon Finnish peers Mono Junk, Claws Costeau and Antti Hevosmaa to orchestrate a masterclass in experimental electronica. The sleeve art, rendered by artist-architect Natacha Mankowski, echoing the post-digital form of the music.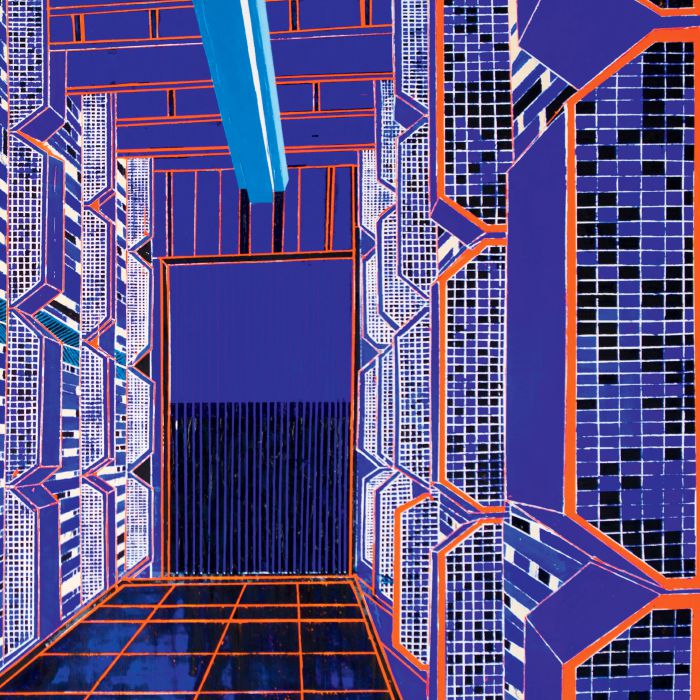 A-side opening track Siemaus eases in with an affable downtempo march. Trudging bass under minimalist drum work anchoring a collage of drone noise and whirring glitches. A first and only vocal appearance from Mono Junk plays into TULE (This Is The Word)'s dark, gothic undertones. The mini album quickly slipping into distorted and upbeat electro.
Pilo provides the A-side interval. A hypnotic acid run to cool off from the chaotic nature of the previous cut. Final track before the flip Hauta Couture is lead down a discordant path by the instrumental patterns of Hevosmaa and Costeau. The gentle structuring of clicks and hi-hats disrupted by avant-garde improvisations - uneasy, restless yet unfathomably trance-like.
Compressed, delicate synths intelligently weave between a dream-like soundscape on B-side opener Komero. Complete with intricate fills building from a metronomic tap, the resulting work is one of intense depth and self reflection. Sokko strips back the tempo once again; it's slow, jaunting pace enclosed in a mass of digital ricochets. Subtle brass cuts through in the distance.
The steady and brooding Out'oh sets the penultimate scene. Frequencies resonate as if contained within the cold, metallic hull of a wandering space vessel. The electric bass moulded around warping synths, dissonant echos and clipping acid line. Leaving as entered, Semmutus chugs languidly with warm chords and spiralling electronics. An interlaced, thought-provoking voyage that comes full circle.
An LP for the thinkers. Ponder the existential consequences of a tech-dominated future, one caught between post-human utopia and AI dystopia - just one conceptualisation to be drawn from the fluctuating, imaginative digital moods.
A curve ball for the DJ bag too; wash the crowd with ambient spills to invite respite during intense sets, or toy the emotions via more disturbing picks on the release. A deep, devastating achievement in rhythm and sound, made possible by the fluid interactions of producer, musician, and artist.